CAIRNS REEF TOURS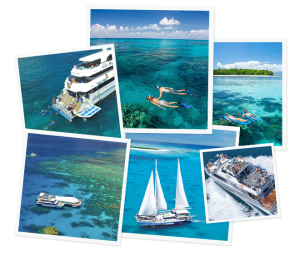 Cairns is the Gateway to the Great Barrier Reef.
Visiting the Great Barrier Reef is the #1 reason people visit Cairns and there are over 40 Reef Tours departing Cairns daily.
We have listed them all here so you can find, compare & book the ideal experience for your family & friends.
Need to Book Last Minute?
We have last seat availability for all Cairns Reef Tours on our Tourism Town page. Book your day on the Reef with instant confirmation.
Check Availability Here
FIND YOUR GREAT BARRIER REEF EXPERIENCE
Reef Information Pages
About the Great Barrier Reef
The Great Barrier Reef is the world's most extensive coral reef ecosystem, covering approx 348,000 square kilometres from the Gulf of Papua in Australia's north, to the Bundaberg region in the south. It is five times the size of Tasmania or larger that the United Kingdom and Ireland combined! And is one of a few living structures visible from space, appearing as a complex string of individual reef structures along Australia's northeast coast.
Within the GBR there are some 2,500 individual reefs, over 900 islands, 300 coral cays and about 150 inshore mangrove islands. It is also home to an extraordinary variety of marine life; there are over 1,500 species of fish, about 400 species of coral, 4,000 species of mollusk, and some 240 species of birds, plus a great diversity of sponges, anemones, marine worms, crustaceans, and other species. No other World Heritage property contains such biodiversity!
Cairns is known as the 'Gateway to the Great Barrier Reef'. Located in Far North Queensland (approx 2 hours flight from Brisbane), it is the closest departure point for reef cruises to the outer barrier reef. Travel time to the outer barrier reef takes just 90 minutes by boat, or a 30 minute helicopter flight. If you want to see a tropical island then Green Island and Fitzroy Island are just a 45 minute boat ride away. Reef trips depart daily and cater for all abilities.

About Cairns Reef Day Tours
There are many ways to view the Great Barrier Reef, whether you're a swimmer or non-swimmer, diver or beginner snorkeller, travelling with family or looking for that perfect romantic escape, there's an experience to suit all budgets and requirements.
Reef tours depart from the Cairns Marlin Marina, some tourss check in directly onto the vessel and others you will need to check in at the Reef Fleet Terminal, located adjacent to the marina. This will be advised on booking. Coach transfers can also be arranged for reef trips departing from Port Douglas.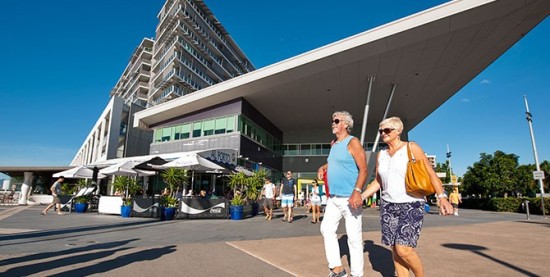 Most reef trips are a full day experience including all snorkel/dive equipment and lunch plus morning/afternoon tea. If you're short of time or travelling with a young family and prefer a shorter day, then a trip to Green Island or Fitzroy Island provides a great reef experience with the added convenience of flexible ferry departures throughout the day. Travel time from Cairns is just 45 minutes.
You could also travel in style and take a scenic helicopter flight to the reef. There are a number of fly/cruise and cruise/fly options to choose from, providing you with an experience to view the reef from above, on the surface and underwater should you choose.
When to Go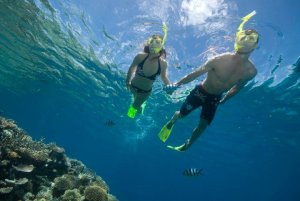 Any time of year is a great time to go! The Great Barrier Reef is open 365 days a year and we happen to be blessed with the best tropical climate in Australia. Cairns average temperatures range from 31.4 degrees celsius in the summer and an average minimum of 17.0 degrees celsius in winter. Summer comes with high humidity and increased rainfall (the "wet" season). It is however, an ideal time for visiting the Great Barrier Reef, with water temperatures at a luxury 29 degrees, low wind and ideal water clarity, makes for perfect conditions. Don't worry about the rain, in most cases it hangs around on land drawn towards the mountains abnd rainforest, meanwhile a day at the reef can be bathed in a day of glorious sunshine!
Winter time (the "dry season") brings with it a period of comfortable balmy temperatures and low rainfall. The water temperature at this time of year dips to its coolest at around 24 degrees. The southern trade winds usually pick up during this time, so remember your sea sickness tablets if you're prone to sea sickness. Whilst most of the year provides ideal conditions for visiting the Great Barrier Reef, we would have to say our favourite time is between October to December after the trade winds and before the heat of summer and monsoonal season.
Diving the Great Barrier Reef
You don't need to be an experienced scuba diver to dive the Great Barrier Reef - anyone can do it! With shallow waters, sheltered dive sites, great visibility and an amazing array of coral and fish life, the Great Barrier Reef is the perfect playground for beginner divers. The majority of reef day tours from Cairns offer the opportunity to scuba dive, no experience is necessary as you will be fully briefed and guided by a highly qualified dive instructor. ​
The dive usually lasts around 20-30 minutes, and on completion you will be rewarded with a souvenir dive certificate as a memento to one of the best experiences of your life!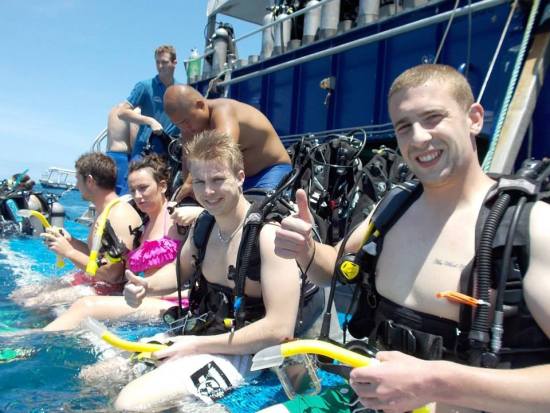 There's no shortage of reef locations for certified divers with sites selected on the day according to weather conditions and visibility. Some reef operators specialise in scuba diving where you will have the opportunity to complete up to 3 dives in a day. All equipment is provided or you can bring your own. Expect to find a variety of coral gardens, reef walls, bommies, swim throughs and caves. No two dives are ever the same, as there's always new areas of the reef to explore, and marine life to encounter.
Family Fun at the Reef
If travelling with very young children we recommend selecting a pontoon or island trip. This means that you are not confined to a boat for the whole day, but will have access to many more facilities to make your day as comfortable as possible.
Onboard a pontoon ​you will find a whole host of activities and facilities including underwater coral viewing observatory, semi-submersible rides, glass bottom boat tours, marine touch tank, snorkel platform, kids enclosed swim area, an introductory dive platform, sunbaking deck, undercover seating, change rooms and showers and the list goes on.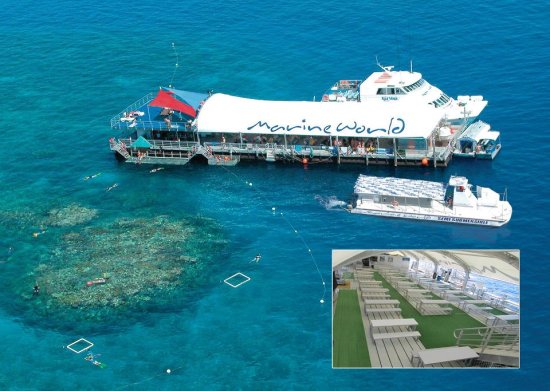 With a range of activities for swimmers and non-swimmers it means that everyone can experience the very best of the Great Barrier Reef - including the grandparents! It also provides great value as most of the activities are included in the trip cost.
Island reef tours are great for beginner snorkellers as you can practice in the shallows on the beach first and stay within a depth that feels comfortable. Both Fitzroy and Green Island are well set up for families with plenty of facilities to make your day as easy as possible.