ACTIVITY GUIDE
There are many ways to explore the world's largest coral reef. You don't have to be a fan of snorkelling, or even get wet to experience the myriad of colours and fascinating marinelife in this underwater world. Cairns is the ultimate destination for reef experiences, with so many activities available for young, old, swimmers & non-swimmers, everyone can have the opportunity to appreciate this precious natural wonder.

Choose your perspective!
Whether it's on the water, underwater, from the air or keeping your feet firmly secured on dry land,
here's 17 different ways you can view the Great Barrier Reef!
FROM THE AIR
- Scenic Heli Flight

Take to the sky on an ultimate reef scenic heli flight. This has got to be one of the most exhilarating ways to experience the colour and grandeur of the Great Barrier Reef! Enjoy the thrill of taking off and having a birds eye view of turquoise reefs, with the chance to spot marinelife in their natural habitat below. There are a variety of heli options to choose from, whether its a 30 minute scenic flight, a fly/cruise option, visiting a secluded sandy cay or adding a 10 minute breathtaking flight to your reef cruise.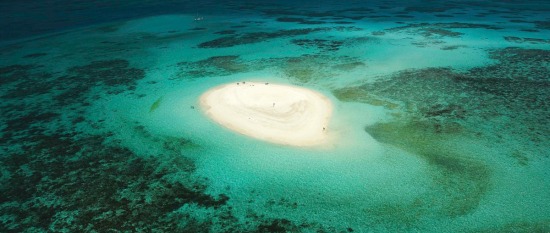 - Reef Scenic Flight
A 30 minute Reef Scenic Flight with Daintree Air is the perfect way for you to gain an appreciation of the immensity of the Great Barrier Reef. Step aboard this high wing, single engine aircraft where every passenger will have a window seat. Designed specifically for low level scenic flying, you will see up to 140 kilometres of the Outer Barrier Reef as well as many inner islands, reefs and sand cays. At certain times of the year pods of whales are often spotted in the vicinity of Green Island.

- Parasail

Green Island Scenic Parasailing will offer you a thrilling experience where you can take to the sky and enjoy a bird's eye view of Green Island and the surrounding reef system. This safe, fun and exhilarating experience allows the journey to be shared, as the unique parasailing chair seats 2 passengers side-by-side. It does not require you to wear bathers as you won't get wet.

ON THE WATER
- Snorkel

Not every one wants to dive and, to be honest, snorkelling is the best and easiest way to see the reef because 90% of it's diversity occurs within 4 metres of the surface. It doesn't take long to get the hand of it and for beginners a crew member is usually on hand to offer tuition on gear use and snorkeling techniques. Snorkelling offers all swimmers, regardless of their skill level, the opportunity to see this diverse eco-system up close. A selection of buoyancy aids (foam noodles, life jackets and wetsuits) allows you to float effortlessly over rich, colourful coral gardens, and snorkel guides are usually available to guide you through the natural maze of beautiful coral and fishes and point out all the 'cool stuff'.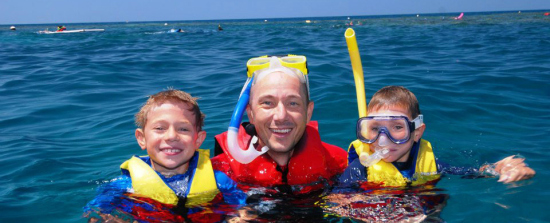 - Glass Bottom Boat

Explore the wonders of the reef from the comfort of a glass bottom boat tour. Hovering over beautiful coral gardens, giant clams and schools of colourful reef fish, a glass bottom boat is ideal for kids, non-swimmers and for those who are wanting to learn more about the reef. Tours usually last around 30 minutes with a running commentary by a marine biologist. Most pontoon and island experiences offer the option of taking a glass bottom boat tour.


- Sea Bob
Experience one of the most exciting and adrenaline-packed ways to see the Great Barrier Reef on SEABOB! The SEABOB is an electric powered jet that helps you manoeuvre while you're snorkelling. Choose from a 30 or 60 minute SEABOB experience on Fitzroy Island where you can explore the fringing reef effortlessly.Easy to use, all equipment is supplied including full body wetsuit.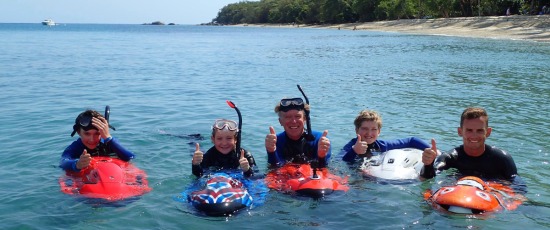 - Kayak

Sea kayaking proivides an adventurous and active way of exploring the fringing reefs and islands of the Great Barrier Reef. Simply glide along the surface of the water and take in the magnificent marine and island views. Some guided kayak tours visit secluded areas not accessible by foot. Quite often you will see turtles popping their heads out of the water and rays swimming past. Sea kayaking provides a back to nature experience away from the noise and bustle of motors, a sunrise kayak is a great way to start the day!

- Paddle Board

Experience paddling along side coral reef and across beautiful white sandy shallow waters. You will be truly amazed at how close you can get to to the marine life standing upon a Paddleboard. The water is usually very clear, and more often than not you will see tropical marine life such as small rays and turtles swimming through the water. This is a very special experience, standing on the water surrounded by amazing views and the reef below, especially on sunrise.

- Vu Body Board

Would you like to see the wonders of the reef, but not so keen on the idea of diving or snorkelling? Then maybe you need to try the Vu Board! A Vu Board is similar to a body board with a clear window to view fish and coral. It's a great way to encourage those who are not so keen on snorkelling or diving to still enjoy a similar experience without having to putting their heads beneath the water or put a snorkel in their mouth. This is especially ideal for young children who can share their experience and talk about what they are seeing.It is by far the most easiest and most comfortable way to explore the depths without disturbing the undergrowth or stepping on the coral below.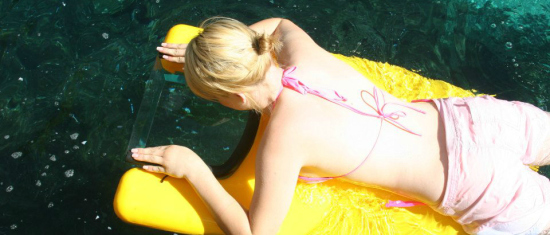 - Ocean Trampoline

Just like a Cocoa Cola advert but only better...Ocean Trampolining on Fitzroy Island! Where else in the world can you snorkel, dive, sea kayak, explore rainforest trails and then go jump on an ocean trampoline! Fitzroy Island has it all. The ocean trampoline is free to use for guests travelling with Raging Thunder.

UNDERWATER
- Scuba Dive

For scuba dive enthusiasts the Great Barrier Reef represents some of the finest and most diverse diving in the world.
Every skill level is catered for from novice to instructor, and what better place to undertake your diver training than in the tropical waters of Far North Queensland with temperatures ranging between 24-29 degrees, and visibility around 15-20 metres. Choose from a variety of day tours or take an extended liveaboard option and sleep on the reef.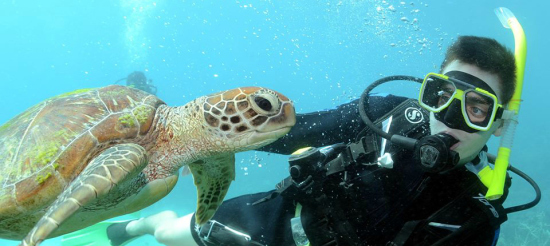 - Semi Submersible
A semi-submersible coral viewing tour treats passengers to a divers view of the coral reef and marine life. Sitting
1m below the water level, passengers can enjoy gliding through coral gardens and along the edge of coral drop off's
spotting a huge array of colourful reef fish. With large viewing windows and air conditioning, these semi-submersible
tours provide a divers perspective of the reef in comfort and without getting wet! Tours are usually take around 30
minutes and are fully guided by an onboard marine biologist.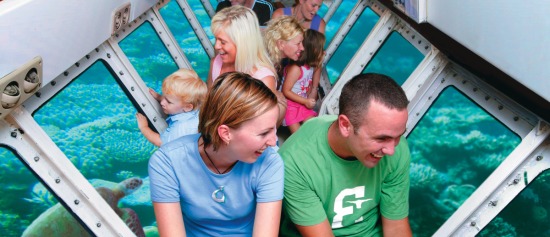 - Scuba Doo

Cruise along the Coral reef in your personal under water scooter! Scuba-Doo is a self drive fully guided under water tour of the magnificent coral gardens of the Great Barrier Reef. No swimming skills are required, glasses or contact lenses can be worn, minimum age is 12 years old. Your adventure tour will begin at a depth of 4 metres, departing from the pontoon you will make your way over to the Coral Reef where you will meet some fascinating marine life.
The fully guided tour allows you to cruise at a speed of 2.5 knots without tanks, weights or mask, there is no swimming involved and your head and shoulders will remain dry inside the 180 degree viewing dome of the Scuba-Doo.
This Underwater experience takes approximately 20 minutes. Find out more -->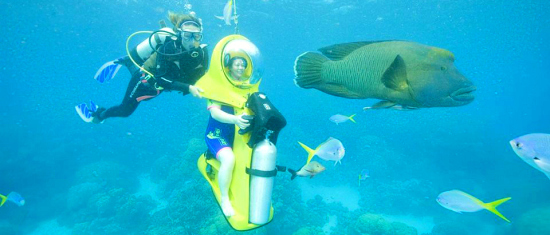 - Sea Walker

Seawalker Helmet diving is a great way to get up close and personal with different marine species. Perfect for non-
swimmers or anyone who might not be so confident in water! Unlike traditional scuba diving, Seawalker enables you to breathe through your nose and mouth as you would above water. No experience is required and you won't even get your hair wet! Your experienced guide will show you the beautiful coral and schools of fish and if you're lucky on Green Island you might even meet the Famous Star Photobombing Parrot Fish! Gavin is a resident Bluebarred Parrotfish at Green Island who joins nearly every dive to "photobomb". He just cannot help himself!!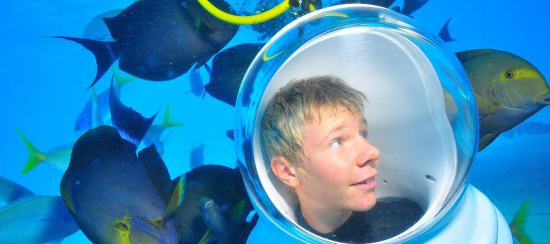 - Underwater Observatory

Underwater reef viewing observatories are located on all outer reef pontoons. This is a perfect option for non-swimmers or if you want time out from the water to sit and relax and take in the underwater world in comfort.The observatories are open for you to walk through at any time of the day. Fish feeding demonstrations are usually conducted, you may also see first time divers descend into the water for an underwater adventure. Extensive interpretive posters may also help you identify the myriad of corals, fish and marine life.

FOR LAND LOVERS
- Beach Walk

Take a walk with a knowledgeable Marine Biologist at the Low Isles, and explore the unique marine life living at the waters edge. Explore rock pools full of life and learn about the flora and fauna inhabiting the island as well as ther history of Low Isles as an important place of marine research. Cruises to the Frankland Islands also include a guided beach walk or you can explore the island at your own leisure.

- On the Jetty

The jetty at Green Island is a great place to watch marine life come and go. The shallow waters are a popular spot for turtle sightings, reef sharks, angelfish, fusiliers, trevally and stingrays. Morning is a good time for sightings before the boats arrive, or if you are lucky enough to stay at the resort then at 5:00pm each evening it's feeding time. Watch as enormous tropical fish surge to the top of the water for their nightly feed. This is a must do for hotel guests wanting to see and learn more about the island's marine life.