WHEN TO GO
Anytime of the year is great for visiting the Great Barrier Reef, in particular we love the months from October to December, when the weather is generally clear & fine, winds are low and visibility at its best.
A typical North Queensland tropical climate brings clear, fine days during our 'Winter' months (June - August), and hot and humid conditions during our 'Summer' months (December - February), with much of our annual rainfall falling between January - March. But don't worry if does happen to be raining on the day of your reef cruise, its more the wind and swell that determines the quality of your day, not so much the rain. In most cases the rain tends to draw towards the mountains, leaving the reef clear and fine of the day. Water temperatures are typically warm and comfortable year round, ranging from 23°C in the winter to 29°C in the summer.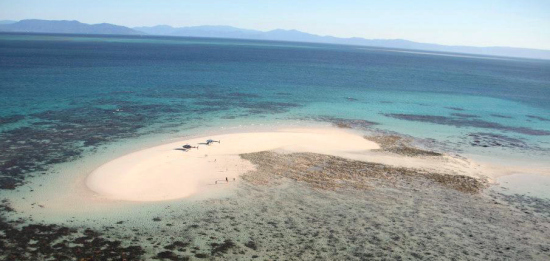 LIVE WEATHER
View detailed forecast graphs here.
GETTING TO CAIRNS
Cairns is accessible from virtually anywhere in Australia by air. The Cairns International Airport services international and domestic airlines as well as general aviation and a number of helicopter operators. Domestic flights travel to Cairns from all over the country including all capital cities, regional Far North Queensland and tourist destinations such as Uluru (Ayers Rock). Carriers include Qantas, Jetstar, TigerAir, Virgin Australia. International airlines servicing the Cairns Airport include Air New Zealand, Air Niugini, Cathay Pacific, Silk Air.

REEF DEPARTURES
The Reef Fleet Terminal is the main departure point for all reef trips. Check-in is located at 1 Spence Street Cairns, which is just next to the Shangri-La Hotel at the Pier Marketplace. Some reef trips board directly onto the vessel, you will be advised this on booking, along with your boarding/check in time. Coach transfers from your accommodation can be arranged or we recommend taking a taxi.
For self drivers, Council parking is available outside The Pier, or you can park undercover at the Casino or The Pier for about $10 for the day. There is also all day parking at the outdoor carparks located near the Cruise Liner Terminal on Wharf Street, about two blocks away. Helicopter flights depart from the Cairns Esplanade.
WHEELCHAIR FRIENDLY REEF TRIPS
Below is some information on the most suitable trips to the Great Barrier Reef for wheelchair passengers. We recommend calling our office or emailing as much detail as possible in advance, so that we can reconmmend the best trip option to suit your individual requirments. There are occasions when certain vessels may not operate, so by providing us with as much information as possible, and reconfirming your booking within 24 hours will help us ensure that you have the best Great Barrier Reef experience ever!
Green Island
Green Island is accessible for wheelchairs, however not all transfer vessels are able to accommodate wheelchairs.
Once on the island wide paved and timber pathways allow wheelchairs to move around the island and through the
island facilities. There is also an eco boardwalk that takes you directly through the rainforest into the centre of
the Island which is easily accessible. Disabled toilets are available on the island also.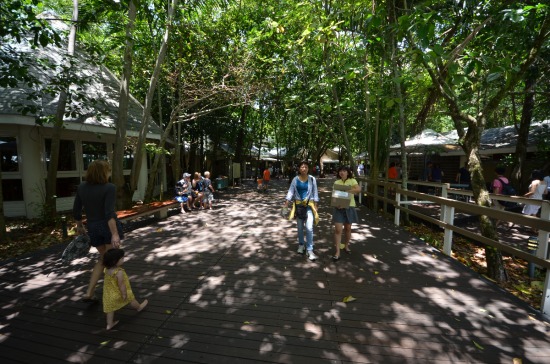 Big Cat Cruises visits Green Island daily and has limited wheelchair facilities onboard. Passengers must have some
mobility and/or the presence of a carer who can assist them. Depending on tides it may be necessary to
embark/disembark from different levels on the boat. Toilets on the vessel are not wheelchair accessible. Coral
viewing and glass bottom boat activities are subject to the weather and the extent of the passenger's mobility
and/or the presence of a carer who can assist. Big Cat Cruises are not able to accommodate electric wheelchairs on
any of the vessels or coaches.
Great Adventures Green Island
Depending on tides and weather conditions, gangways from the vessel to the jetty are sometimes too small for a
wheelchair and will at times have a few steps from the end of the gangway to the jetty. The gangways are able to
accommodate standard sized wheelchairs, however larger motorised wheelchairs may not be able to be accommodated.
The glass bottom boat is only accessible via a number of steps (and is not able accommodate a wheelchair).
Reef Magic

There is ramp access from the wharf to the vessel and vessel to the Marine World platform. However, passengers are
required to negotiate at least one set of stairs on the vessel depending on tides and loading position so the
assistance of a carer is highly recommended. The Reef Magic II catamaran has wide isles and a wheelchair accessible
toilet & shower. Access to the water, coral viewing vessels, underwater observatory and sundeck all require stairs
to be negotiated and would require a carer to be present if unable to walk unassisted.

Great Adventures Outer Reef

Great Adventures vessel "Reef King" does have a motorised chair lift to enable transfer between the upper and lower
decks, however it is recommended that passengers have some mobility or assistance to transfer from their
wheelchair. Toilets on the vessel and outer reef are not wheelchair accessible. There are ramp facilities from the
vessel to the floating platform. There are no disabled facilities on the platform and the platform does have
decking where wheelchair wheels may get stuck. Access to the underwater observatory, swim platforms and semi-
submersible is by stairs only.

Quicksilver Cruises

Quicksilver VIII is the most suitable vessel for wheelchair passengers, however there are occasions when this
vessel may not operate which is often not known till 24 hours prior to departure, so it is recommended to reconfirm
your booking prior to travel. On Quicksilver VIII there is an oversized toilet cubicle suitable for most wheelchair
passengers. Quicksilver V also has a wheelchair accessible toilet. At the platform a chair lift enables disabled
passengers to be lowered into the water to enjoy snorkelling. There are ramp facilities from the vessel to the
floating platform, however access to the underwater observatory, swim platforms and semi-submersible coral viewing
vessel is by stairs only.
Sunlover Cruises

Sunlover Cruises is very well set-up to accommodate wheelchairs. They have multiple entrance points onto the
vessel, as well as a dedicated wheelchair table on the main deck, wheel chair ramps to get over door jams and very
experienced and willing crew. In some circumstances, they may be able to offer glass bottom boat rides and even
SCUBA Diving! but cannot guarantee this every time.