Great Barrier Reef Islands
Island day trips accessible from Cairns include Green, Fitzroy, Frankland and Low Isles. These stunning islands are all diverse with their own unique features and highlights. Fringing reef surrounds the islands where you can snorkel directly off the beach, and walking tracks through lush rainforest allow you to explore the different flora and fauna.
Green Island
Green Island is a popular daytripper option from Cairns. Situated just 27km offshore and a short 45 minute ferry ride, there are a number of departures throughout the day making this a great option for families or people short of time.
Formed over 6000 years ago, Green Island is actually a coral cay. With a build up of sand sediments, coral and other debris, Green Island become home to a diverse range of flora and fauna. Today the island supports a range of vegetation, and out of the 300 coral cays in the Great Barrier Reef, Green Island is the only one with a rainforest!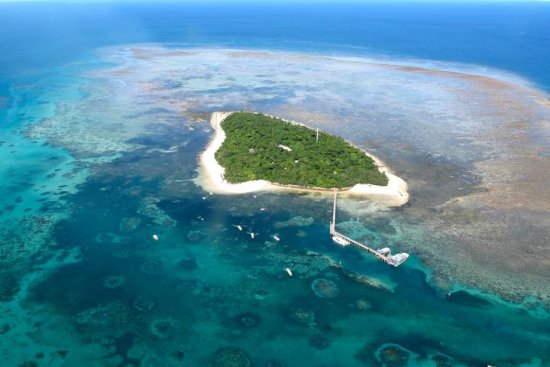 Activities available include snorkelling, scuba diving, sea walker helmut dive, glass bottom boat tours, semi submersible tours, kayak hire, island eco boardwalk, parasailing, Marineland Melanesia and helicopter tours. There are also plenty of facilities on the island including coin lockers, wheelchair facilities, boardwalk pathways, swimming pool, pool bar, restaurant, casual grill, ice cream shop, resort shop, dive shop, massage salon and beach hire. Find out more -->
Reef trips visiting Green Island include:
Great Adventures
Big Cat Cruises
Cairns Adventure Cruises
Ocean Free
Fitzroy Island
Fitzroy Island is one of the most unspoiled islands on the Great Barrier Reef, with 97 percent of the four square kilometre continental island covered in tropical rainforest and protected within the Fitzroy Island National Park.

Located just a 45-minute ferry ride (about 30 km) from Cairns, Fitzroy is much loved by Cairns locals and tourists alike. Some of the activities you can participate in while visiting Fitzroy Island include walking and hiking trails, snorkelling, swimming, sea kayaking, ocean trampoline and viewing the reef by glass bottom boat.

Raging Thunder includes use of the Ocean Trampoline in the cost of the ferry transfers and also offers the lowest price for return ferry transfers. Raging Thunder owns the Beach Hire Hut and also offers Activity passes that include Beach Hire equipment and lunch. Raging Thunder offers Sea Kayaking tour packages. Raging Thunder Ferry departs at 9am daily and departs the island at 4.30pm in the afternoon.

Fitzroy Island Fast Cat is owned by Fitzroy Island Resort. Fitzroy Island Fast Cat departs at 8am, 11am and 1.30pm from Cairns Marina. Fitzroy Island Fast Cat do not have a counter at the Reef Fleet Terminal or an office in the city so you will need to pre-book the ferry. It is possible to do this on this website. If you are trying to book for tomorrow you will need to call our office on 1800 663 396 or 40402100. If you do not have a printer that's fine. You can show your ticket on the mobile phone. The Fitzroy Island Fast Cat is the island vessel. Departures from the Island are at 9.30am, 12.15pm and 5pm. If you are a resort guest please note these times when booking flights.

All ferrys take 45-50 minutes to get to the Island. Fast Cat is the name of the ferry but it is not actually faster than Raging Thunder or Sunlover vessels.

If you are a local living here in Cairns Raging Thunder, Fitzroy Island Fast Cat and Sunlover Cruises all offer special discounted local rates at some times during the year so it is best to call them directly. You will need to show your local ID. There is also an online site called ''Local Tourism Deals'' that you can sign up to for all Local Specials.

Parents please note: Students 17 years or younger who are not travelling with adult supervision you will need to book Raging Thunder ferry tickets. Fitzroy Island Fast Cat will send students back on the next ferry if they do not carry ID stating they are 18 years old.

Fitzroy Island has one boutique resort offering 4 types of guest accommodation.

The island is also home to the Cairns Turtle Rehabilitation Centre, with tours taking place daily.
Reef trips visiting Fitzroy Island include:
Raging Thunder Adventures
Fitzroy Island Fast Cat
Sunlover Reef Cruises
Frankland Islands
The Frankland Islands comprise of High, Normanby, Mabel, Round and Russell that lie about 10 km offshore from the mouth of the Russell and Mulgrave rivers at Russell Heads, about 45 km south-east of Cairns.
Frankland Islands Cruises depart daily from Deeral, taking passengers to Normanby Island. The day includes a river cruise, reef and island experience with snorkelling, diving, semi submersible tours and guided island tours just some of the activities taking place on the day.
Low Isles
The Low Isles is located 15 km (8 nautical miles) off the coast of Port Douglas and is made up of two islands, Woody Island an uninhabited coral/mangrove island and Low Island, a sandy coral cay typical of the Great Barrier Reef. A calm lagoon area that sits between the two islands provides the perfect snorkelling site.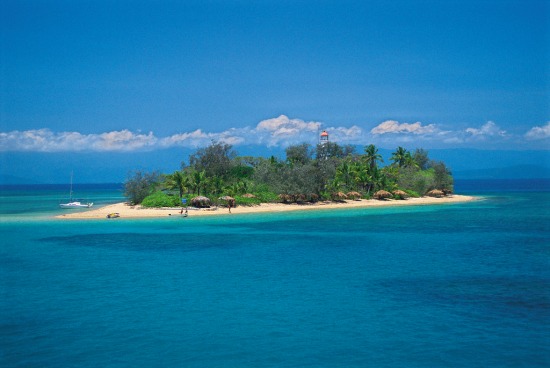 Here you will find an abundance of marinelife including fusiliers, sweet-lip, angelfish and plenty of turtles! The island is perfect for young children and beginner snorkellers. Low Isles has also been a research station since the late 1920's and is still the site of significant research for the Great Barrier Reef. Sailing trips depart daily from Port Dougals to the Low Isles and coach transfers from Cairns can be organised.
Reef trips visiting the Low Isles include:
Quicksilver's Wavedancer
Sailaway
Aquarius Sail & Snorkel