YOUR FAMILY GUIDE TO THE REEF
When choosing a reef trip for your family, things to consider include the ages of your children, swimming capabilities, and what activities each family member wants to experience whilst at the reef.
If travelling with very young children we recommend selecting a pontoon or island trip. This means that you are not confined to a boat for the whole day, but will have access to many more facilities to make your day as comfortable as possible. Choosing an island trip also means that you will have the flexibility to select your preferred ferry departure or even visit for just a half day if you prefer.
All trips offer snorkel tuition and a range of buoyancy aids. Guided snorkel tours are usually provided so you have best chance of finding all the cool stuff and learning about it at the same time. If dad or mum wants to scuba dive then usually this is taken in turns, unless you have another family member who can watch the kids. Scuba diving is offered on all pontoon trips as well as a whole range of activities to keep everyone happy - including the grandparents!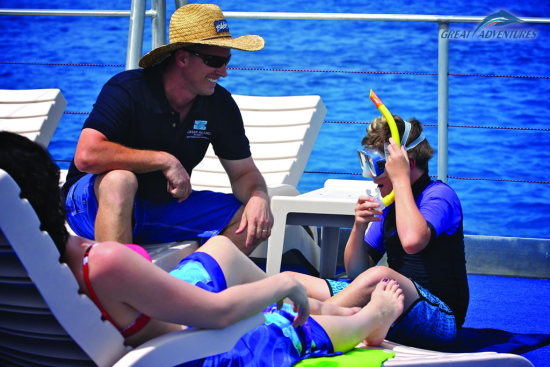 PONTOON TRIPS
Pontoon trips are fun for people of all ages and especially ideal for families. A pontoon is a safe and spacious floating reef platform located at the outer barrier reef. It is also ideal for those who are prone to seasickness, as the day is spent on a stable structure, with the boat journey being just the transfer to and from the pontoon. Onboard the pontoon you will find a whole host of activities and facilities including underwater coral viewing observatory, semi-submersible rides, glass bottom boat tours, marine touch tank, snorkel platform, kids enclosed swim area, an introductory dive platform, sunbaking deck, undercover seating, change rooms and showers and the list goes on...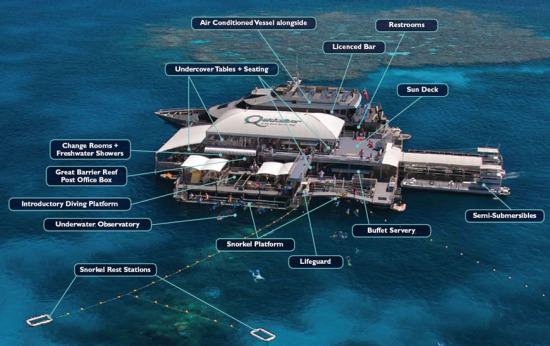 With a range of activities for swimmers and non-swimmers it means that everyone can experience the very best of the Great Barrier Reef. It also provides great value as most of the activities are included in the trip cost.
Little ones will enjoy dipping their toes in the water and experiencing fish circling around them in the safe, fully enclosed kids pool. Older kids and parents can take to the water via the submerged platform. Friendly snorkelling safety officers can assist you with your snorkelling gear and give you a few tips so that you can fully enjoy your experience. For grandparents who prefer not to get wet there are a variety of ways to share the day with the whole family and hop onboard a glass bottom boat tour, semi submersible tour or take to the skies on a 10 minute scenic heli flight.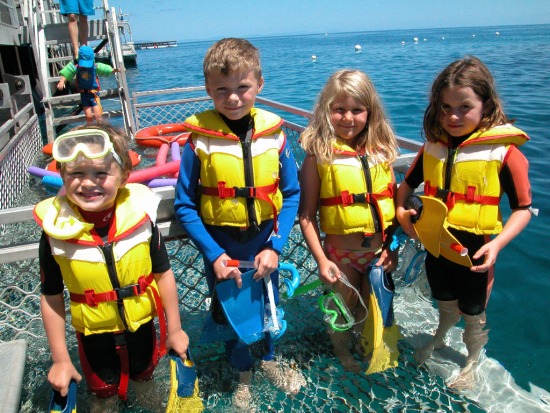 Quicksilver Cruises
Departing from Port Douglas Marina Mirage, coach transfers are available from Cairns. This premium cruise visits Agincourt Reef located at the very outer edge of the Barrier Reef.
The large, spacious, state-of-the-art vessel ensures a smooth ride, regardless of the weather. Wheelchair access is also available. Quicksilver's activity platform is the largest on the Great Barrier Reef featuring change rooms, freshwater showers, undercover tables & seating, sun deck, buffet servery, snorkel platform, underwater observatory, introductory diving platform, semi-submersible tours, oceanwalker platform, lifeguard and even a Great Barrier Reef post office box!
With a high crew/guest ratio your family will be well looked after!
- Reef Magic
Reef Magic's all-weather Marine World activity platform is located at the beautiful Moore Reef. Catering to all activity levels, you will have a 5 full hours on the Outer Barrier Reef to take part in the full range of facilities and activities available. Included in your day is all snorkelling equipment, a Marine Biologist presentation, Glass Bottom Boat tours, Semi submersible tours, Underwater Observatory, infant swimming enclosure, fish feeding with a marine biologist and a delicious buffet lunch. A spacious sundeck with lounges and shaded areas provides space for time out and a good spot for lunch.
- Sunlover Cruises
Sunlover cruises to Moore Reef daily and offers a great experience for visitors of all ages. Departing Cairns at 9:30am, you will have 4 hours to enjoy all the activities on offer on the floating platform. Regardless of age and ability everyone has the opportunity to discover the beauty and diversity of the Great Barrier Reef. Children will be able to view unique marine life up close with the on-board touch tank. Glass bottom boat tours and semi submersiblke tours operate throughout the day and a fish feeding presentation is conducted in the afternoon. The fully enclosed kids pool ensures infants can swim in a safe, enclosed environment and still get to experience the Great Barrier Reef, as fish can swim inside the enclosure.
- Great Adventures
With the latest departure from Cairns to the Great Barrier Reef, you can enjoy a casual morning before your 9:30am check in and 10:30am ferry departure. Great Adventures activity platform is situated at Norman Reef, located on the edge of the outer barrier reef. This is the perfect base for swimmers and non-swimmers to explore. Snorkel, dive, visit the underwater observatory, cruise in a semi-sub or relax on the sun deck. Great Adventures is the only pontoon to offer the Scuba Doo underwater scooter activity (minimum age 12 years).
GREAT BARRIER REEF ISLANDS
Island trips are an easy option for families. Here you can enjoy the best of both a reef and island experience with a whole range of activities to keep the kids entertained. Islands are great for beginner snorkellers as you can practice in the shallows on the beach first and stay within a depth that feels comfortable. Both Fitzroy and Green Island are well set up for families with plenty of facilities to make your day as easy as possible. Dining facilities are available or you can bring your own picnic lunch. There are also flexible ferry departures between Cairns and Green/Fitzroy Island, so you can choose how long you wish to stay.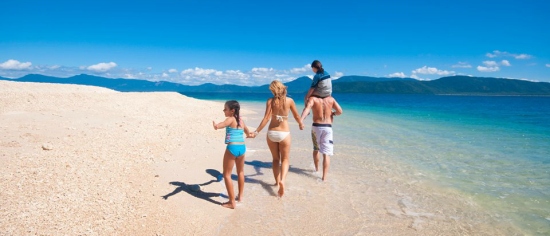 GREEN ISLAND
Green Island is just a short 45 minute ferry crossing from Cairns.There are a number of departures throughout the day so you can choose to stay as long or short as you please. Once on the island the day is yours to explore. Bring your own picnic with you or purchase lunch from one of the many food outlets. Activities on the island include snorkelling, diving, glass bottom boat tours, rainforest eco walk, Marineland Melanesia, parasailing, beach hire options and more... This is a great option for beginner snorkellers as you can simply snorkel straight off the beach. Baby change facilities are available on the island. The catamaran has ample room for a pram and there are extensive wooden boardwalks that take you through the island's rainforest.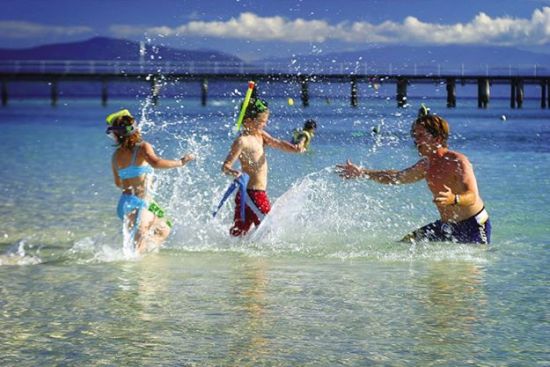 FITZROY ISLAND
A short 45 minute ferry ride from Cairns brings you to Fitzroy Island. Fitzroy is one of the most unspoilt islands on the Great Barrier Reef and a great place for families to get back to nature. Some of the activities you can participate in include walking and hiking trails, snorkelling, swimming, sea kayaking, ocean trampoline, viewing the reef by glass bottom boat or simply playing and relaxing on the beach. Facilities on the island include Foxy's Bar and Cafe, which provide a wide range of food and drink options including Kids meals and coffee. The General Store also has a range of packaged food, drinks and general needs including pies, sandwiches, ice-creams, BBQ packs, soft drinks and sunblock.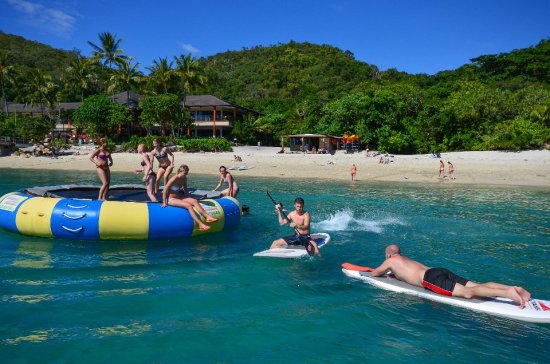 FRANKLAND ISLANDS
The Frankland Islands is a unique trip that departs from Deeral, located 40 minutes south of Cairns. Frankland Islands Cruises is the only tour company permitted to visit this unihabitated group of pristine islands. This spectacular and varied day begins with a short calm water cruise down the Mulgrave River. Following the shortest open water crossing you will arrive at Normanby Island where the day is yours to swim, snorkel, take a semi submersible ride and explore the island. Ideal for beginner snorkellers you can literally snorkel straight from the beach across a wide variety of colourful coral. Lots of turtles also hang out here. Enjoy exploring rock pools full of life with a marine biologist.
LOW ISLES
An hour sailing time from Port Douglas brings you to the Low Isles, an unspoilt tropical paradise that appeals to everyone. The wide sandy beach and clear, calm lagoon are ideal for swimming and snorkelling and a good place to spot turtles and colourful coral. This trip provides a wonderful educational opportunity for children. Join a beach walk or guided snorkel where a qualified Marine Biologist will happily answer any questions you or your children may have about this precious marine ecosystem. Glass bottom boat tours are also available or you can simply set yourself up under a thatched beach umbrella and watch the kids have some fun!